the CDU agitates the fear of "red socks"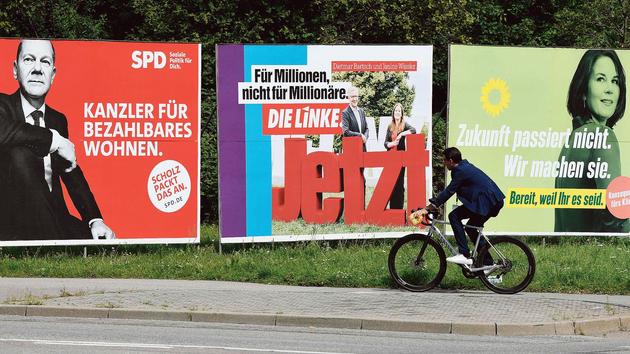 DECRYPTION – The possible alliance of the Social Democrats with the radical left is likely to mobilize the undecided.
In Berlin
Satirical broadcasts on public television call it "the red scholz hunt". This formula condenses the main message of the end of the campaign hammered out by Armin Laschet. Barely in the polls which ranked him second, the CDU candidate raised the threat of the formation, after the legislative elections of September 26, of a coalition associating, in addition to the Greens, the SPD and the radical left (Die Linke ). This alliance, called "rot-rot-grün" combining green and the two red colors, would be unprecedented nationally. It would signal the clear shift to the left of a Federal Republic which, in its history, has traditionally been governed in the center.
Read alsoNazism: Germans committed to repentance
By refusing in public debates to exclude such a coalition, the social-democratic campaign favorite, Olaf Scholz, drew the wrath of his opponent from the CDU, also supported by Angela Merkel. Annoyed by the self-comparison exercise with the chancellor, in which the candidate engages
This article is for subscribers only. You have 72% left to discover.
Freedom has no borders, like your curiosity.
Continue reading your article for € 1 the first month
Already subscribed? Log in