The coalition carried out precise strikes on legitimate military targets in Sana'a and Saada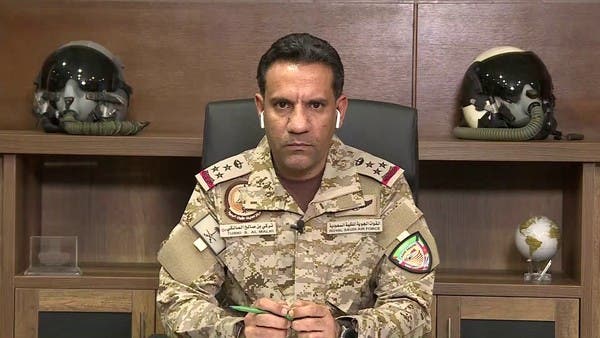 Spokesman for the Coalition to Support Legitimacy in Yemen, Colonel Turki Al-Maliki, stated, from Wednesday night to Thursday, that the coalition had carried out precise strikes against legitimate military targets in Sanaa and Saada.
Al-Maliki added that the targets included sites for ballistic missiles, drones, and weapons depots.
The coalition spokesman added that the strikes achieved their goals to neutralize cross-border attacks and attempts to target civilians, stressing that the militia's cross-border attacks are absurd, and the coalition continues to exercise restraint.
In addition, local residents reported to Al-Arabiya. Net, that the coalition warplanes launched air raids on the camps and warehouses of maintenance, Al-Nahdin, Al-Hafa and Attan, stressing that violent explosions rocked the capital following the raids, while it is likely that they were depots of weapons and missiles.
The coalition aircraft also targeted the Al-Sawad camp in the Haziz area and the Rayma Hamid camp in Sanhan, in Sanaa.
The losses resulting from these explosions were not known, while the Houthi media only mentioned the sites that were targeted without details.
And the "Yemeni Scene" website reported that the coalition aircraft also targeted a meeting of senior leaders of the Houthi coup militia in the Yemeni capital, Sana'a.
And local sources were quoted as saying that the coalition aircraft targeted a meeting of senior leaders of the Houthi militia, in the presidential house, south of Sanaa.
The sources confirmed the killing and wounding of prominent leaders of the coup militias.