the flash of the other Hazard, Bernardo Silva irrelevant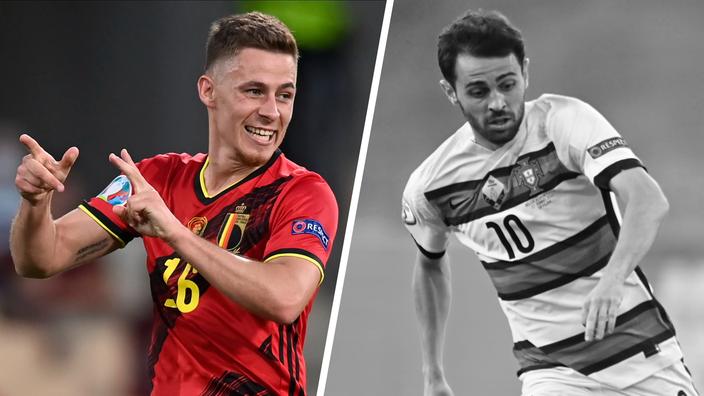 Belgium won by a short header against Portugal in the round of 16 of Euro 2020 (1-0). Find the Tops and Flops of this meeting at the top.
Tops
Belgium can thank (the other) Hazard
Unrecognizable in the game, Belgium has nevertheless been able to be ultra-efficient by converting its only shot on target. The work of Thorgan Hazard at the end of the first period. Holder in a role of left piston, the Borussia Dortmund player has deceived the vigilance of Rui Patricio with a beautiful floating strike from twenty meters. Eden's little brother was also very valuable at the end of the match, making several life-saving returns under Lusitanian pressure.
Courteous assures
Last bulwark of a battered Belgium, Thibaut Courtois knew how to keep his clean sheet. The Real Madrid goalkeeper was particularly illustrated by repelling a powerful free kick from Ronaldo in the first period. Vigilant in the air and saved by his post on a shot from Guerreiro, he was not surprised by a header from Ruben Dias at the end of the match.
Flops
What regrets for Portugal!
The figures are clear: Portugal outrageously dominated this round of 16. Twenty-three shots against six, twenty-two centers against five, 57% possession… (Opta). Finally beaten, Cristiano Ronaldo's teammates can harbor enormous regrets. If they were able to manhandle the Belgians throughout the meeting, the reigning European champions paid dearly for their lack of efficiency and inspiration in the last gesture.
The Bernardo Silva disappointment
Sparkling Wednesday against the France team, especially in the first period, Bernardo Silva missed his round of 16. The former Monegasque, still titular on his right wing, has never weighed on the debates, despite the great collective performance of his team. Imprecise and too discreet until his replacement at the start of the second half.
De Bruyne and Hazard on the flank
Qualified against the course of the game for the quarter-finals, Belgium will face Italy on Friday. But the No. 1 in the FIFA rankings may be greatly diminished for this shock, since Kevin De Bruyne and Eden Hazard had to leave the lawn in the second half. The first suffered in the left ankle, hit on a tackle from Palhinha, while the second injured his thigh. The countdown is on, but the presence of the two players in the quarterfinals already seems very uncertain.