the journey of an "Immortal", from the ghettos of Missouri to the Pantheon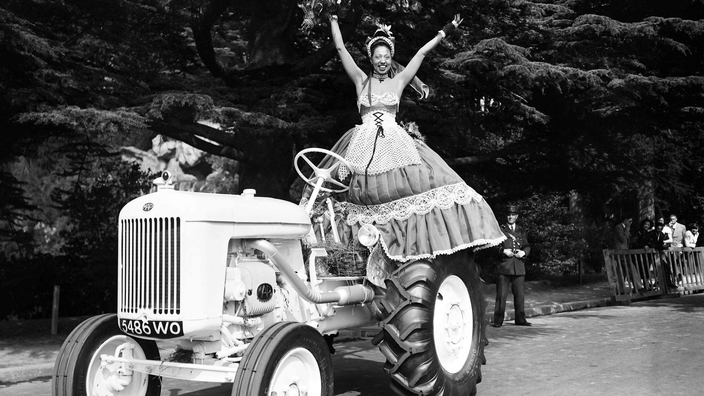 The first pantheonized black artist, she thwarted the racist imagery that had made her famous to establish herself as a free woman, heroine of the Resistance and apostle of universal brotherhood.
Born in misery in the United States, the "Ebony venusBecame a beloved diva, entered counterintelligence during World War II and then led an international fight against racism by becoming the mother of 12 children adopted around the world. Without feather or glitter, it is in the uniform of Free France that she spoke after Martin Luther King and his famous "I have a dreamIn 1963, in Washington. The Civil Rights March was the "best day of his life».
«I never knew if this job satisfied her completely and if she didn't want to be a political figure instead.», Declared Bruno Coquatrix, his friend and big boss of the French variety. "She wanted nothing less than the reconciliation of all men (…). She continued her job as a magazine leader to earn money, to win this battle».
Read alsoThe Eye of INA: Dare Joséphine Baker!
Freda Joséphine McDonald was born on June 3, 1906 in Saint-Louis, Missouri, to a black Native American and a short-lived father of Spanish origin. She grows up in vermin and segregation. Placed as a servant, she stops school to get married at 13 years old. A failure. She joined a troupe of street dancers and married Willie Baker in 1921.
The young girl leaves her husband to try her luck in New York, but will keep her name. She had difficulty integrating two troupes on Broadway then was convinced by a producer to join Paris with Sidney Bechet. On October 2, 1925, the African-American dancer became the star of The Negro Review at the Champs-Élysées theater and reluctantly accepts to appear topless.
That evening, she delighted the whole of Paris with her "wild dance»: In a savannah setting, the artist performs a strange charleston in an unleashing of jazz drums while squinting, a huge smile hanging on his lips. "Driven by dark forces that I did not know, I improvised, intoxicated by music, the theater overheated and packed under the heat of the projectors», She will tell.
The public discovers, blissfully, this black woman who plays with colonial fantasies. In 1927, at the Folies Bergères, it is dressed in a simple belt of bananas and accompanied by a living panther that the burlesque artist radiates on stage.
Read alsoSinger, resistance fighter, spy… The many facets of Joséphine Baker
«Scandalous star»
«She is aware of embodying "the savage" but she is going to invent a way of her own to occupy this disturbing place.», Explains director Ilana Navaro in her documentary Baker, first black icon. «Around his kidneys, bananas, racist symbols par excellence, are transformed into phallic trophies».
The first song she performed, I have two loves … My country and Paris, in 1930 at the Casino de Paris, consecrates her as a diva. "If I want to be a star, I must be scandalous», She proclaims with her American accent. She walks with a snake around her neck, a goat on a leash and creates scandals according to her whims. His ardor on stage and his exoticism maddened Picabia, Desnos. A free woman, she is credited with adventures with men and women.
Her impresario Giuseppe Abatino, a Sicilian with whom she has lived for ten years, is organizing a world tour for her. In the United States, the reception is mixed. In 1937, "Princess Tam-Tam»Marries businessman Jean Lion and becomes French. "It is France that made me what I am, I will keep her eternal gratitudeShe says. "Have I not become the darling of Parisians? They gave me everything, especially their hearts. I gave them mine. I'm ready to give them my life today».
Read alsoJoséphine Baker, agent in the service of France
«A human race»
Black woman, married to a Jewish man, Josephine Baker is a target for the Nazis. From then on, its political commitment will become central. She sang for the soldiers at the front and became a propaganda agent for General de Gaulle, obtaining among other things, thanks to her interpersonal skills, information on Mussolini's intentions.
Second Lieutenant Joséphine Baker transmitted to London hidden reports in sympathetic ink in her scores, which earned her the Croix de Guerre. A civil rights activist for black Americans, she joined the International League Against Racism. Alongside Castro, she participated in Cuba in 1966 in the Tricontinentale, the Third World conference.
To prove that "there is only one human race», She adopts, with her new husband the conductor Jo Bouillon, twelve children of different origins. She installs her "rainbow tribe"In a castle in the Dordogne, Les Milandes, where she founded the"capital of fraternity". The phalanstery becomes an amusement park to the glory of a reconciled world. The project is disproportionate: ruined, she goes back on stage to save her domain. In vain.
She died on April 12, 1975, three days after celebrating her golden wedding anniversary with the stage.