The keys to understanding the extreme tensions in the Far East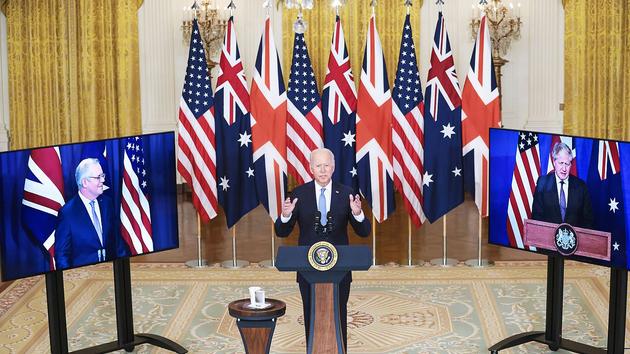 DECRYPTION – Aukus, Quad, «Five Eyes»: Focused on Chinese expansionism, Washington is increasing military alliances in what the Pentagon calls the "Indo-Pacific sphere", the geographic space uniting the Indian and Pacific Oceans. A very Anglo-Saxon network from which France is totally excluded.
1 / A torpedo named AUKUS
The announcement was made on September 15, during a videoconference between Joe Biden, Scott Morrison and Boris Johnson: after eighteen months of confidential negotiations, a new military alliance has emerged. Called Aukus (English acronym for Australia, United Kingdom, United States), this tripartite partnership aims to counter the People's China and its will to power. Unofficially, because Beijing has never been mentioned in the baptismal communiques which only mention the need to "Respond to the challenges of a world order based on law, including in the South and East China Sea". Clearly, it is about counterbalancing the "New silk roads" launched by Xi Jinping in 2014. And to calm the territorial appetites of the former Middle Kingdom on the side of Taiwan and the islets he insisted on (such as the Paracels and the Spratleys). To do this, Washington will deliver eight nuclear attack submarines (ANS) to Australia, which breaks the contract of
This article is for subscribers only. You have 73% left to discover.
Freedom has no borders, like your curiosity.
Continue reading your article for € 1 the first month
Already subscribed? Log in