The Libyan National Army declares the border with Algeria a closed military zone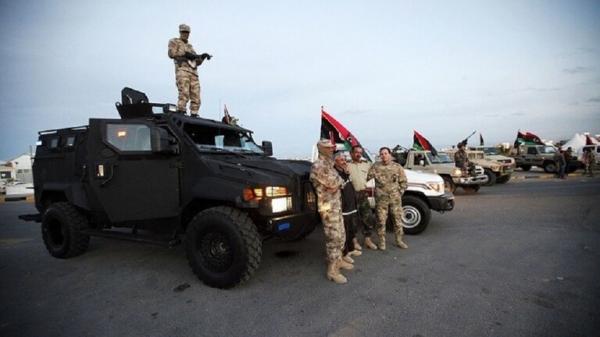 The "Libyan National Army" led by Field Marshal Khalifa Haftar declared the Libyan border with Algeria a closed military zone.
And the army indicated in a statement on Saturday that "the armed forces closed the Libyan-Algerian border, and declared that it is a military zone in which movement is prohibited."
An informed source confirmed that "the Libyan National Army now controls only one border checkpoint located in the southwest of the country near the city of Ghat."
The air force of the General Command of the "Libyan Army" launched a series of violent strikes on valleys and caves in the Haruj Mountains, southern Libya, where ISIS members are stationed.
A statement from the army indicated that "these strikes are part of the military operation announced by the General Command to purify the south of terrorist organizations that are based in southern Libya and threaten security in the country and in neighboring countries as well."
Last Thursday, the spokesman for the Commander in Chief, Major General Ahmed Al-Mismari, announced the launch of a large-scale military operation in the southwest against the organization's elements.
He said: "Due to the escalation of Takfiri gangs of terrorist operations in the southwest and their targeting by a car bomb to a security and military site, the General Command ordered units of the infantry battalions to head to the area to support the Southwest Liberation Operations Room in the strategic southern direction, in order to track down the Takfiri terrorists and expel the African mercenary gangs that threaten security and stability and engage in looting, theft, sabotage and smuggling of all kinds.
He continued, "The operation comes within the framework of implementing the tasks and duties entrusted to the General Command in maintaining the security of the homeland and the safety of the citizen, eradicating terrorism and cutting off anyone who seeks to harm the security of Libya and the dignity of Libyans."