The manufacturer of caddy trolleys in default of payment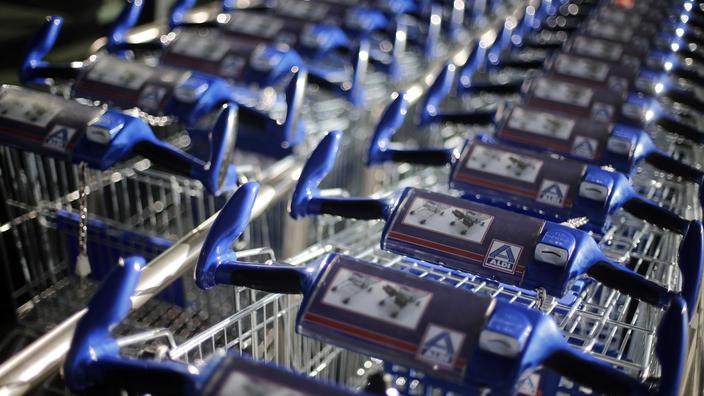 The Alsatian company is paying for the drop in its activity and the consequences of the Covid on its production rate.
The famous manufacturer of supermarket trolleys Caddie, based in Alsace, declared himself insolvent on Monday in the face of an accumulation of difficulties which have exhausted his cash flow, we learned from its president.
Read alsoLarge-scale distribution is starting to subscribe
"We filed this morning a declaration of suspension of payment at the court of Saverne (Bas-Rhin). (…) Our treasury is dry ", its president Stéphane Dedieu told AFP, confirming information from the Latest News from Alsace (DNA).
A hearing which will determine the conditions of his receivership is scheduled for Tuesday morning before the commercial chamber of the judicial court of Saverne, the latter confirmed. "It is a combination of misfortunes that caused us to run out of cash", explained Mr. Dedieu, who had taken over the presidency of the company following a previous receivership in 2014.
Affected by the pandemic
"We have suffered a lot of setbacks since the start of the Covid-19 pandemic with a significant drop in turnover, mainly because we work a lot with clients abroad", detailed the president of the company named "The Workshops reunited Caddy", which still have 140 employees.
"Then we had supply difficulties which delayed our productions, then a cluster" among employees, he added, also referring to the rise in the cost of raw materials such as steel. In the summer of 2020, Caddie, 70% owned since 2018 by the Polish Damix, had already cut fifty jobs and regrouped its production of forklifts for mass distribution on the sole site of Dettwiller (Bas-Rhin).
CFTC secretary of the CSE, Luc Strohmenger questioned "risky management»Funds guaranteed by the State for the management of the pandemic. The employees are "in depression, it's a huge waste", He said, he who will experience his third receivership with the company.
Emblematic company of mass distribution
"But we had a lot of setbacks when we reconnected our production lines and we lost a lot of production days, which ate our cash", explains Stéphane Dedieu. He hopes that this new judicial reorganization will mark "a new start" for this "Beautiful brand".
Read alsoThe puzzle of consolidation in mass distribution
Founded in 1928, the company invented the metal trolley for supermarkets and hypermarkets under the brand "Shopping cart", Which has become a common name. It has experienced growth with the rise of the consumer society, before undergoing two legal reorganizations, in 2012 and then in 2014.