the prefect establishes a curfew "until calm is restored"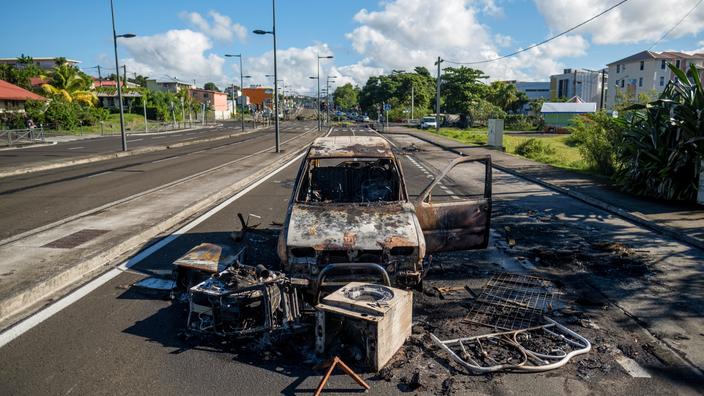 The measure aims to prevent further agitated evenings while violence has been plaguing the island since Monday. The protest began to denounce the compulsory vaccination of firefighters and caregivers.
The prefect of Martinique decided on Thursday to establish a curfew in the face of nighttime urban violence in the island, which, like its neighbor Guadeloupe, is experiencing a protest movement, born of a refusal of the compulsory vaccination of caregivers but which degenerated into a social crisis.
Read alsoRiots in the West Indies: what is the origin of the claims in Guadeloupe and Martinique?
The priority objective of this established curfew "From 7:00 p.m. to 5:00 a.m.", it's "The return to a peaceful situation" who "Then allows (you) to dialogue, to work, to move forward", but also "The return of public service and the reopening of the school system", said the prefect Stanislas Cazelle to AFP. Security will be reinforced from Thursday night to Friday, he said, "With a more mobile device and more to target the most difficult points". The blockage of certain axes continued Thursday on the two islands.
Tensions at Pointe-à-Pitre hospital since the start of the general strike on November 15 are starting to have their effects: an association of interns invoked on Wednesday the right of withdrawal of its members to "Imminent danger" and hospital doctors are resigning. "I do not understand that union action is turned towards obstacles to the work tool (…) towards intimidation, insults, attacks against staff and particularly doctors", declared on radio RCI Guadeloupe the director of the CHU, Gérard Cotellon. "I am starting to pay the consequences of all this: they are resignations in chain". "If the goal was to get the doctors to leave, we are getting there. And this will pose problems for the care of Guadeloupe patients ", he lamented.
Read alsoRoadblocks, shooting at the police … The West Indies in the cyclone of violence
The management of the Martinique University Hospital has for its part announced that "in the actual context", she was forced "Activate the minimum service on all CHUM sites in order to secure professionals and patients", Due to "Great difficulties in providing care in the institution". Local and national authorities have tried to open the door to dialogue with unions and elected officials on the two islands. The leaders of the 17 trade unions, the prefect and the president of the executive council of the Territorial Collectivity of Martinique, Serge Letchimy, took part in a conciliation meeting at the prefecture on Thursday. The participants came out after 4 hours, but no one had wished to express themselves so far on the content of the discussions.