The Saudi crown prince assures Putin of the kingdom's readiness to make efforts for a political solution to the crisis with Ukraine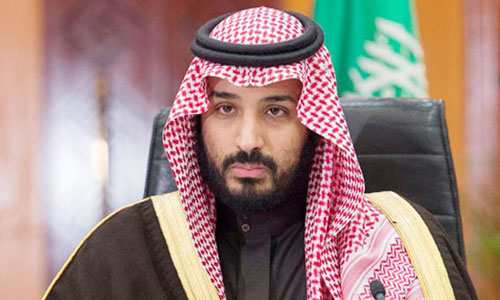 a u a

Published in:
Friday 23 September 2022 – 2:54 am
| Last updated:
Friday 23 September 2022 – 2:54 am

Saudi Crown Prince Mohammed bin Salman bin Abdulaziz affirmed, during a phone call, initiated Thursday evening, with Russian President Vladimir Putin, "the Kingdom's readiness to make efforts to reach a political solution to the crisis with Ukraine."
And the Saudi Press Agency "SPA" reported Thursday evening, "President Putin, at the beginning of the call, thanked the Crown Prince for his active and distinguished contribution to the success of the prisoner exchange process."
The Saudi Crown Prince affirmed the Kingdom's readiness to make all good offices and support all efforts to reach a political solution to the crisis.
Putin noted the Kingdom's accession to the Shanghai Cooperation Organization as a dialogue partner, stressing the members' aspiration for the Kingdom's active contribution to the organization's work, according to "SPA".
The Saudi Crown Prince discussed with the Russian President aspects of cooperation between the two countries and ways to enhance them in various fields.
Prince Mohammed bin Salman's call with Putin comes hours after a call he made with Ukrainian President Volodymyr Zelensky, during which he confirmed "the kingdom's readiness to mediate between Moscow and Kiev."
"SPA" stated that Zelensky expressed his thanks to the Saudi Crown Prince for his efforts in the prisoner exchange process, appreciating Prince Mohammed bin Salman for "accepting the role of mediator" and noting the "pivotal role of the Kingdom in the Middle East and the world."
For his part, the Saudi Crown Prince affirmed "the Kingdom's keenness and support for all international efforts aimed at resolving the crisis politically, and its continuation of its efforts to contribute to alleviating the humanitarian effects resulting from it," stressing "the Kingdom's readiness to make efforts to mediate between all parties," according to the official "SPA".
"We discussed Ukraine's energy security, post-war recovery and joint investment projects," Zelensky wrote on Twitter.
Prince Mohammed bin Salman's call with the Ukrainian president today comes hours after Russia released 10 prisoners of war arrested in Ukraine after the mediation of the Saudi crown prince.
!function(f,b,e,v,n,t,s)
{if(f.fbq)return;n=f.fbq=function(){n.callMethod?
n.callMethod.apply(n,arguments):n.queue.push(arguments)};
if(!f._fbq)f._fbq=n;n.push=n;n.loaded=!0;n.version='2.0′;
n.tail=[];t=b.createElement(e);t.async=!0;
t.src=v;s=b.getElementsByTagName(e)[0];
s.parentNode.insertBefore(t,s)}(window,document,'script',
'https://connect.facebook.net/en_US/fbevents.js');
fbq('init', '2392364917476331');
fbq('track', 'PageView');
(function(d, s, id) {
var js, fjs = d.getElementsByTagName(s)[0];
if (d.getElementById(id)) return;
js = d.createElement(s); js.id = id;
js.src = "//connect.facebook.net/ar_AR/sdk.js#xfbml=1&version=v2.6&appId=300970513306659";
fjs.parentNode.insertBefore(js, fjs);
}(document, 'script', 'facebook-jssdk'));
The news from the source