The substance that caused the explosion of the port of Beirut..Lebanon seizes 20 tons of "ammonium nitrate"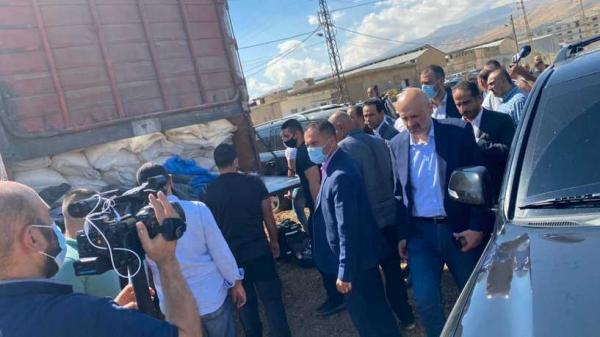 On Saturday, the Lebanese authorities succeeded in seizing a truck containing 20 tons of ammonium nitrate in a neighborhood of Baalbek (east of the country), according to the official media agency.
The agency reported that the Minister of Interior and Municipalities, Bassam Mawlawi, accompanied by senior officers, went to inspect the seizures of a truck in Badnayel Plain loaded with twenty tons of ammonium nitrate, which was seized by the Baalbek Judicial Detachment.
In the vicinity of the confiscated truck, Molloy said in an interview with a number of media outlets, "A comprehensive survey will be conducted in the area after the seizures are transferred to a safe place to avoid any possible danger due to exposure of the materials to heat or the sun."
The truck was transferred to a safe area in the Badnayl Plain, according to the agency.
Mawlawi indicated that he is "following up with the security forces investigations," refusing to reveal more details, specifically about the party involved in the cargo of this truck, noting that there are detainees.
The authorities did not announce the destination of the truck, or whether these quantities were intended for use in agriculture, since ammonium nitrate is an odorless white salt that is used as the basis for many nitrogen fertilizers. It can also be used in the manufacture of explosives, according to "AFP".
On August 4, 2020, a huge explosion occurred in the port of Beirut, killing 214 people, wounding more than 6,500 others, and leaving hundreds of thousands homeless.
The authorities attributed the explosion to a huge amount of ammonium nitrate stored without protective measures inside the port.
It was found, according to media investigations and sources accompanying the investigation, that political officials, security services and the army were aware of the dangers of the presence of 2,750 tons of ammonium nitrate stored in the port, but they did not act, according to Agence France-Presse.
The Lebanese authorities are still investigating the circumstances of the arrival of the huge quantities of ammonium nitrate that exploded in the port of Beirut, the parties responsible for storing them and the reasons for their explosion, while Lebanese and international human rights organizations, survivors and families of the victims are calling on the United Nations Human Rights Council to establish an independent and impartial international investigation mission, amid fears that Increasing political pressure impedes the progress of the domestic investigation.
Lebanon, whose political and social crises have deepened the explosion, is suffering from a difficult economic reality, especially after the national currency lost more than 90 percent of its value, in addition to a fuel crisis and a shortage of food, medical and basic materials.
Most regions today are experiencing severe electricity rationing of up to 22 hours a day, while there is not enough fuel to run private generators.