The Tunisian president participates in the parade to celebrate the 66th anniversary of the founding of the army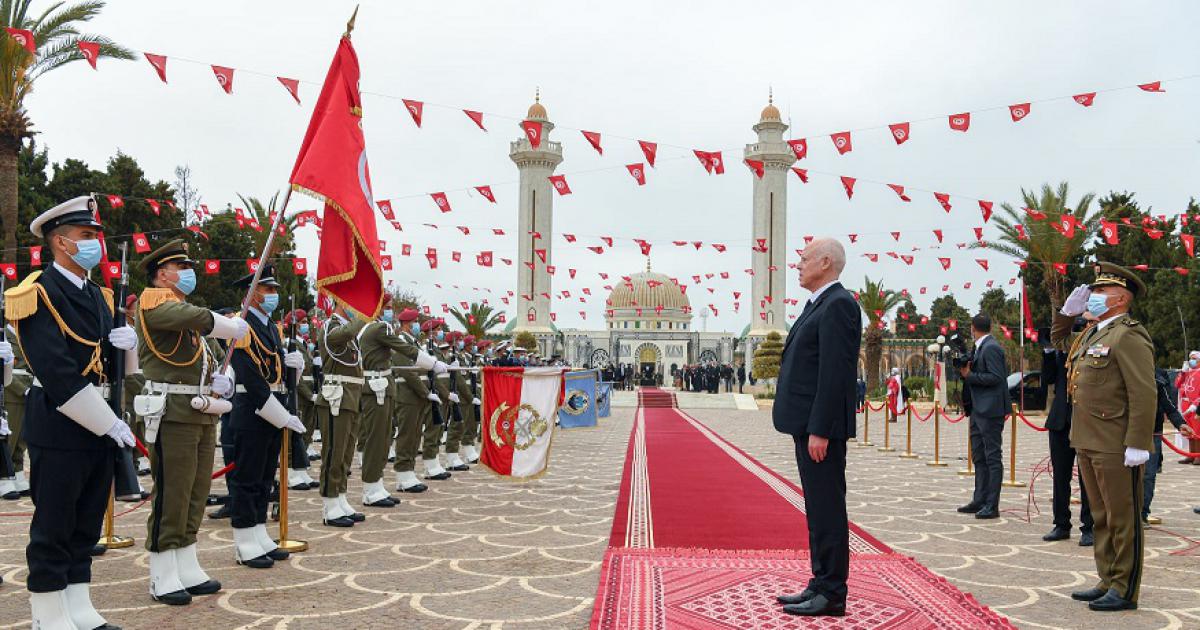 a u a

Published in:
Friday 24 June 2022 – 11:07 AM
| Last updated:
Friday 24 June 2022 – 11:07 AM

Today, Friday, Tunisian President Kais Saied participated in the celebration of the 66th anniversary of the founding of the Tunisian National Army, where he reviewed the ceremonial procession in which all branches participated.
The Tunisian President said – in a speech during the celebration – that the celebrations continue in our dear country, the most important of which is the anniversary of the founding of the national army, and that these celebrations are evidence of the richness of Tunisia's history and that it also does not forget its past, but it evokes the old and recent past and to remind generations of those glorious moments.
He added that the men of the armed forces have achieved heroism in all fields, which must be passed down through generations, and that your motto is always "victory or martyrdom", pointing out that Tunisia is a country that calls for peace, but in a severe atmosphere that the world has not witnessed before, and among these phenomena and new situations for years. It is the phenomenon of terrorism, and it is a global phenomenon, and everyone knows that you have absorbed all the sciences of the age. Rather, your weapons have been developed with your own capabilities to avoid any shortcomings. In the face of all kinds of challenges, we accept nothing but victory.
We also remember what the army did during the Covid 19 pandemic and their role in vaccinating all citizens in many places throughout the Republic of Tunisia, in addition to establishing field hospitals to serve citizens, and work was under difficult conditions, as we recall what the Air Force did and what it did It saved the stranded in many countries during the pandemic, as well as the interventions carried out by the armed forces to save people at sea, as well as the Land Army's provision of exams and elections that every patriot should be proud of.
The Tunisian president pointed out that the army has contributed over the past years to peacekeeping within the United Nations peacekeeping forces, stressing that defending the dear homeland is the duty of every Tunisian, noting that it has done what it promised to establish a "redemption" institution, which aims to sponsor Families of the martyrs and the injured.
The Tunisian president made it clear that he has the determination to overcome all obstacles and difficulties because he pledged to God to serve the people and the country.
!function(f,b,e,v,n,t,s)
{if(f.fbq)return;n=f.fbq=function(){n.callMethod?
n.callMethod.apply(n,arguments):n.queue.push(arguments)};
if(!f._fbq)f._fbq=n;n.push=n;n.loaded=!0;n.version='2.0′;
n.tail=[];t=b.createElement(e);t.async=!0;
t.src=v;s=b.getElementsByTagName(e)[0];
s.parentNode.insertBefore(t,s)}(window,document,'script',
'https://connect.facebook.net/en_US/fbevents.js');
fbq('enter', '2392364917476331');
fbq('track', 'PageView');
(function(d, s, id) {
var js, fjs = d.getElementsByTagName(s)[0];
if (d.getElementById(id)) return;
js = d.createElement(s); js.id = id;
js.src = "//connect.facebook.net/ar_AR/sdk.js#xfbml=1&version=v2.6&appId=300970513306659";
fjs.parentNode.insertBefore (js, fjs);
}(document, 'script', 'facebook-jssdk'));
The news from the source