They resorted to prayers … moments of terror experienced by passengers, the moment the engine of an American plane exploded in the air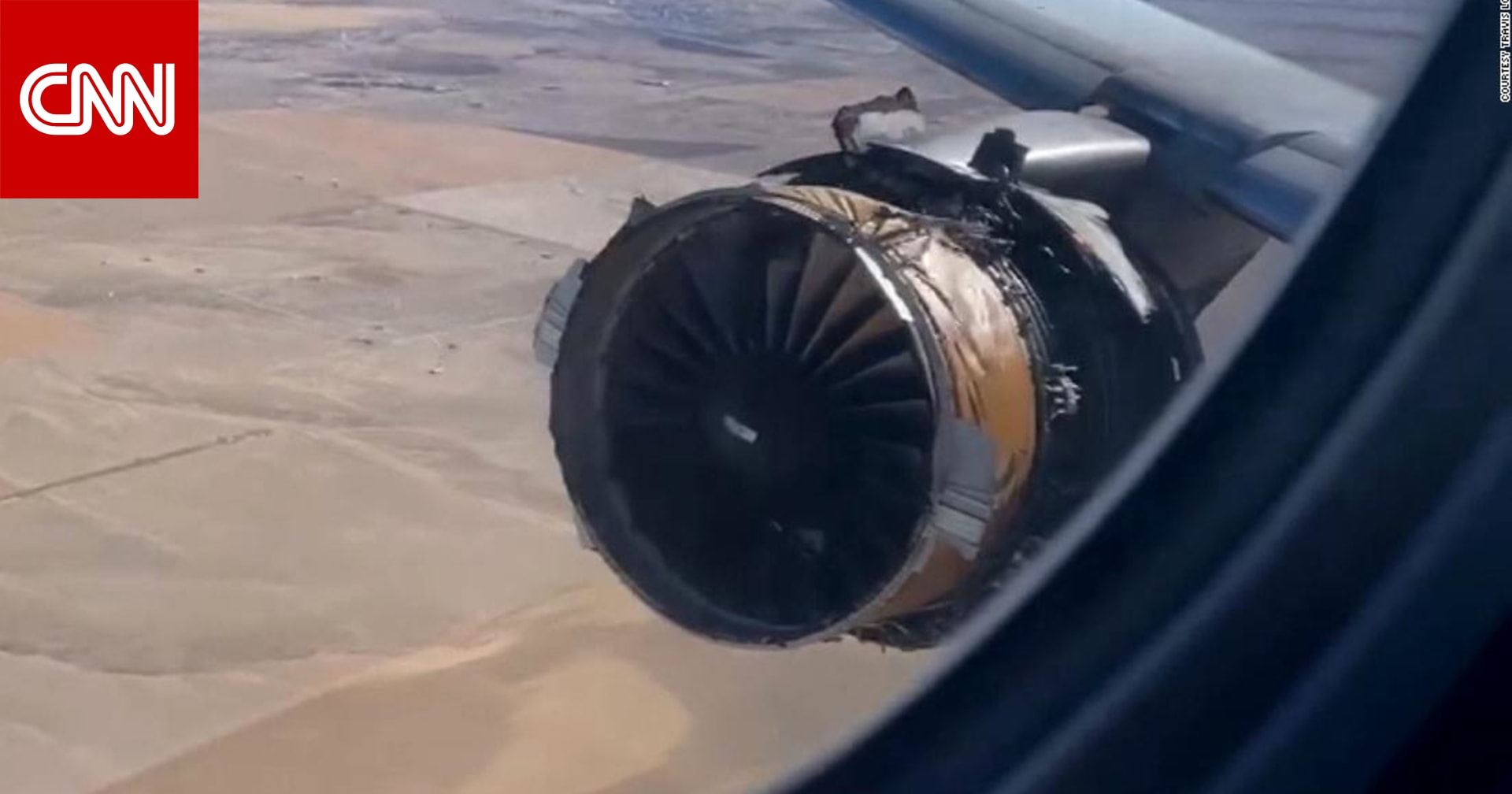 Dubai, United Arab Emirates (CNN) – After hearing a loud boom on board the United Airlines plane, just as it took off on Saturday, it was clear that something had gone wrong.
Some of the 241 passengers on board Flight 328 from Denver International Airport to Honolulu, all eyes turned to the windows to watch an exposed plane engine spew flames, and pieces of the plane fell far to the ground.
Others looked away from their windows, clinging to the hands of loved ones, and resorting to prayer.
Below, thousands of feet away in a Denver suburb, people ran for cover to dodge suddenly falling debris from the sky.
The pilots issued a distress call, and after returning to the airport, they were able to land the plane, "Boeing 777-200", safely.
It is striking that there were no reports of injuries, either in the air or on the ground. However, interviews with passengers show that the accident terrified everyone involved.
Here's what passengers in the sky and eyewitnesses on Earth said who lived through those turbulent moments.
"A big explosion sounded"
Travis Locke, a passenger on United Airlines Flight 328, told CNN that he heard a boom about 20 minutes after take-off for Honolulu.
During a phone call, Locke, who was traveling with his wife, explained that "a big explosion sounded, which is the kind of sound that you do not want to hear when you are on a plane."
"I immediately lifted the window cover," added Locke. "I was scared when I saw that the engine on my side was missing."
Locke said he could have noticed a feeling of fear on board, but everyone was feeling very calm.
Many passengers could not see the engine on this side, so Locke was a little panicked because he was able to see what was happening, which is not a correct situation, according to Locke.
Nate Fisher heard the sound of the explosion as well. He told CNN's "KCNC" television: "I thought that lightning struck the plane at the beginning."
When Bob Brown heard the explosion, he looked out of his window, saw the damage to the engine, and took out his phone to document the accident.
"We looked at each other, my wife and I held each other's hands, and we just wished to see our children again," Brown told KCNC.
Mike Vena was sitting in the middle of the plane, when he heard the explosion, and he told KCNC, "The plane started to swing, and it stayed like this for about half an hour, until it landed."
"Let's just pray."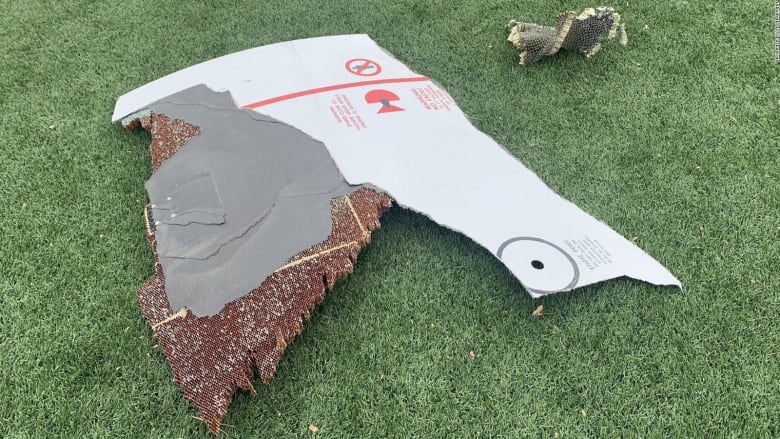 Fina noted that the flight crew's professionalism calmed them down, but he does not hide that he was still anxious, saying, "There was no panic among the crew or passengers. I only felt anxious for my children because they were not with us."
"I think the passengers have done a good job keeping them feeling calm," Dan Smith, from Portland, Maine, told KCNC.
As soon as Brenda Donne, who was traveling with her children, saw the smoke outside the window, she knew something was wrong. "My daughter was sitting near the window, so I told her not to look, and I only invited her to pray," she told CNN's cooperating TV channel KUSA.
Danielle Thomas, who lives in Honolulu, praised the crew's behavior. "I think the pilots had a big role in making everyone feel safe and comfortable," she told KCNC.
Troy Lewis said he had confidence that they would return safely.
When the plane landed safely, people cheered before exiting.
Once the plane landed safely on the ground, Locke said it calmed his nerves and made him ready to continue his journey.
He was not alone in wanting to continue his journey, as United Airlines said in a statement that the majority of the passengers traveled on another flight belonging to them to Honolulu, explaining: "Those who did not want to travel with us this evening got hotel accommodations."
What eyewitnesses did on the ground
While those passengers were concerned about the plane's landing, those on the ground looked up to see debris falling from the sky.
The large, circular hood of the plane's engine fell next to a house, but fortunately it did not cause any significant damage.
And the owner of the house, Kirby Clements, initially believed that his neighbor's trampoline park had exploded and landed in his yard, according to what he told CNN's "KMGH".
But once he opened his door, Clements said it was "the front engine of an airplane."
Meanwhile, elsewhere, Kiran Kane was playing with his children in the yard of a local elementary school when a plane flew overhead, and they heard a loud explosion.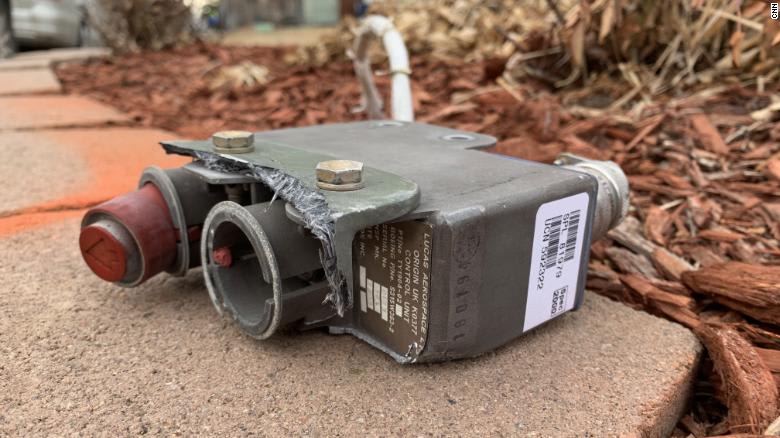 "We saw her pass, we heard the big bang, and we looked up, and there was black smoke in the sky," Kane told CNN.
And Caine continued: "The debris started falling, and it kind of looked as if it was floating on its way to the ground and not very heavy, but in fact it was giant pieces of metal everywhere."
Cain was surprised that the plane continued to fly without interruption, without changing its course or doing anything, saying: "It continued in this way, as if nothing had happened."
Caine and his children took shelter on the gazebo near the playground, and saw debris fall about two, or three, blocks away, he said.
Another eyewitness, Mark Moscovix, told "KCNC" that he heard a loud sound and then looked outside to see a large piece of debris falling from the air into the street.
Muscovix added: "Then I went upstairs to bring my wife and two children, to make sure they were safe."