Three Lebanese female judges resign in protest of "political interference"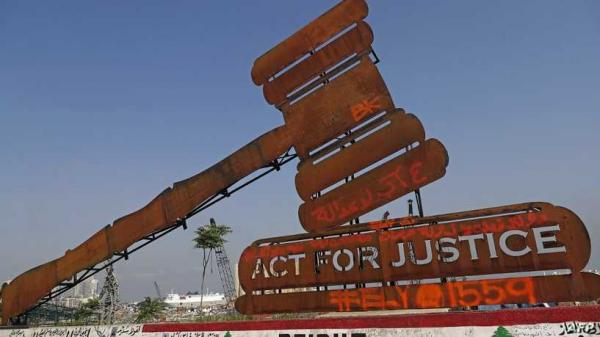 Three Lebanese female judges have submitted their resignations from their positions, in protest against the increasing frequency of political interference that has come to hamper the work of the judiciary in Lebanon.
On Thursday, Agence France-Presse quoted a judicial source as saying that the most prominent manifestations of these interventions emerged in the investigation into the explosion in the port of Beirut.
In Lebanon, a country based on political and sectarian quotas, the judiciary was not immune to favoritism, as politics interfered even in appointments, especially in the Supreme Judicial Council, the highest judicial authority.
The judicial source, who spoke to "AFP" without revealing his identity, said that the three women judges submitted their resignations on Wednesday, "in protest against the difficult situation that the judiciary has reached, political interference in the work of the judiciary and questioning the decisions issued by judges and courts in most cases," especially the explosion. harbor.
political labyrinths
The investigation into the port explosion sank into the labyrinths of politics and then into judicial chaos.
Since he received the investigation about a year ago, 16 lawsuits have been pursued by the judicial investigator, Tariq Bitar, which were submitted to various courts, asking him to stop his hand and transfer the case to another judge, which led to the suspension of the investigation several times.
The majority of the cases are brought by the defendants in the case.
After the courts dismissed several cases for various reasons, the judges found themselves subject to lawsuits brought by the defendants' officials to question the correctness of their decisions.
The judicial source clarified that among the three female judges, a female judge rejected a lawsuit to dismiss Bitar, and the legality of her decision was questioned.
He said that the constant questioning of the judiciary's decisions "began to lose its prestige."
Beirut explosion reveals the hidden
According to the source, the head of the Supreme Judicial Council refused to receive or register the resignation letters, and promised to discuss the issue at the council's next meeting.
The investigation into the explosion of the port of Beirut showed the extent of the weakness of the judicial body in Lebanon and the ability of politics to interfere in its work, unless it served its directions.
And the matter does not stop with the explosion file, as the investigation into the embezzlement of public funds and tax evasion case involving the Governor of the Banque du Liban, Riad Salameh, was also suspended, after a lawsuit filed by an agent of a bank against the discriminatory public defender Jean Tannous, who is looking into the case.