To the sound of Zezé di Camargo and with a hoe in her hand, a doctor who came from the countryside pays tribute to parents graduating – 09/22/2021 – Daily life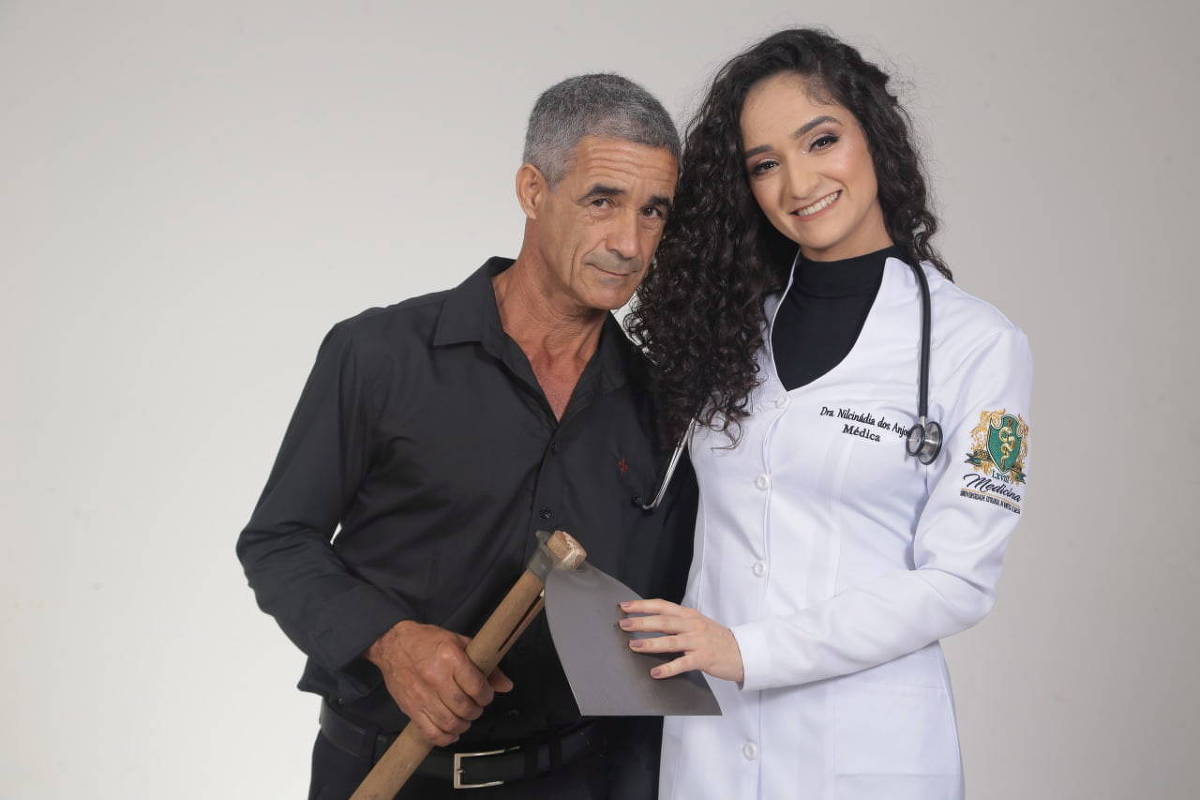 With a hoe in his hands and to the sound of the song "No Dia em que Eu de Casa", known for the voice of the duo Zezé di Camargo and Luciano. This was the form chosen by physician Nilcinádia Alves dos Anjos, 25, to honor her parents, farmers, during her graduation in Minas Gerais.
"About a year and a half before graduation, I was already thinking about it, I wanted to do something to honor them. I thought about the hoe because my father worked in the fields. I thought it would be a way of representing where I came from and making my father happy", says the young woman.
Graduated in medicine from the State University of Montes Claros (Unimontes), Nilcinádia was born in the city of Rio Pardo de Minas, in the north of Minas Gerais, 670 km from Belo Horizonte.
Daughter of farmers Nilson dos Anjos Filho and Nergina Alves Gomes dos Anjos, the young woman grew up in the community of Monte Alegre 1, a rural area in the municipality.
"I always studied at a municipal school, right there in the countryside. I started school very early, at the age of five, and I remember that my mother had already taught me to read at home."
Even having only basic literacy, Nilson and Nergina were great supporters of their daughter in her studies.
"My mother didn't have the opportunity to study, but what she managed to learn, she wanted to pass on to me. My father was very present at school, he always attended meetings. They dedicated themselves a lot so that my brother and I had a good study, within our limitation."
The young woman, who as a child dreamed of becoming a teacher, singer or doctor, chose to pursue the last of these professions.
"When I was little, my mother took me to an appointment and the doctor liked my name, he said that I would agree with Dr. Nilcinádia. In addition, my father knows how to measure pressure and many people in the fields sought him out. I saw how he took care of people and that influenced me", she says.
At age 13, Nilcinádia moved to the nearby town of Salinas. There, she studied at the Federal Institute of Northern Minas Gerais (IFNMG) during high school and started a higher degree in veterinary medicine. After realizing that this was not the career he intended to follow, he decided to dedicate himself to a pre-university course.
"I talked about it with my dad. At first, he was a little afraid that I would drop a course to go after another one that I wasn't sure I would get, but he supported me and said he trusted me a lot", says the doctor. After a year and a half of studies, in July 2015, Nilcinádia was approved in medicine at Unimontes.
"My parents were overjoyed, not believing it. My mother thought she was dreaming. My father wanted to tell everyone, he always found a way to say that I was studying medicine and that he didn't spend anything on my college, because I had managed to pass a public college."
Six years after approval, Nilcinadia became the family's first doctor and once again touched her parents. "On graduation day, when they saw that I was going in with the hoe, my father was crying and looking at the hoe. So, at that moment, my goal had been accomplished."
Today, a month after graduating, the doctor is living in the city of São João Batista (SC), where she works in the Family Health Program (PSF) and also works on shifts.
"For now I want to work, enjoy medicine and my life a little. I also want to help my parents, give them some peace of mind. In the future, I want to do a specialization course, but it's not something that worries me now, it's not something I have as a priority", says Nilcinádia.