Trump calls for re-election of Hungarian Viktor Orban, a "great leader"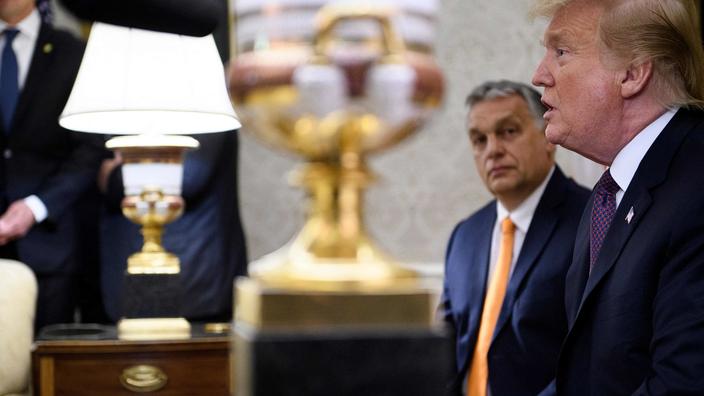 Former US President Donald Trump announced Monday, January 3, to bring his "most comprehensive support"To the re-election campaign of ultra-conservative Hungarian leader Viktor Orban,"a great leader, respected by all».
Read alsoUnited States: Donald Trump embodies radical opposition and matures his revenge
Prime Minister Viktor Orban "love his country wholeheartedly and seek safety for his people», Greeted Donald Trump in a very laudatory press release, calling for support for the sovereignist leader in the April 2022 elections, which promise to be extremely tight. Quoting the "remarkable work"By Viktor Orban for"protect Hungary, curb illegal immigration, create jobs", Themes dear to the former American president, Donald Trump assured him of"its most comprehensive support». «He is a great leader, respected by all», He hammered.
This support provoked a series of criticisms from the Democratic camp. "Trump is simply saying out loud what the Republican Party has long accepted: he prefers autocracy to liberal democracy", Denounced Ben Rhodes, a former senior advisor to Barack Obama, on Twitter.
When he was still in power, Donald Trump had received Viktor Orban in Washington, going against many European leaders, very critical of the Hungarian leader's positions on migrants and LGBT people. Viktor Orban had meanwhile deplored the loss of a "major international supportAfter Donald Trump left the White House. Standing out from the many international condemnations, he also called for "do not judgeThe United States after the assault on Capitol Hill by supporters of the Republican billionaire.
---
SEE ALSO – Hungary: "We are political opponents and European partners», Declares Viktor Orban about him and Emmanuel Macron