Twenty years after the AZF explosion, Toulouse is still healing its wounds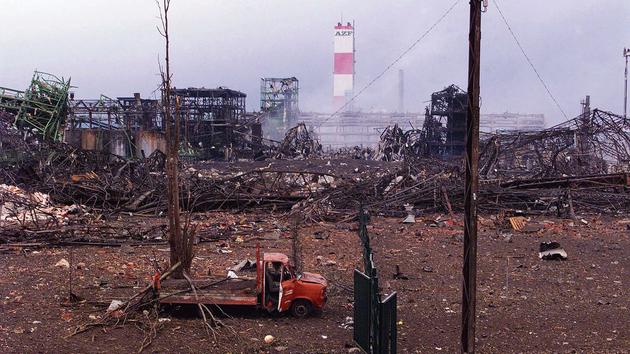 INVESTIGATION – The city is inaugurating on Tuesday a remembrance trail to keep track of the explosion of the chemical plant, which left 31 dead and thousands of injured on September 21, 2001. The associations of disaster victims do not participate in the official ceremony and, despite several trials, still demand justice.
In Toulouse
It will have taken time. Twenty years after the enormous explosion of the AZF (Nitrogen fertilizers) chemical plant on September 21, 2001 in Toulouse, which left 31 dead and at least 2,500 injured, the mayor, Jean-Luc Moudenc (LR), inaugurated this Tuesday a memory trail. Between the old entrance to the site and the monument with 397 masts installed in 2012, nine panels recall the history of the factory, the disaster, the trials and the replacement of the chemical platform by an Oncopôle, a research and cancer care. The disaster victims associations find the story too lenient with the industrialist, the former company Grande Paroisse, a former subsidiary of Total. "We wanted to put historical content, answers Francis Grass, deputy mayor in charge of cultural and memorial policies. For example, we still do not have the official number of injured, so we cannot write that there are 20,000 injured, but there have been 15,000 legal expertises. If we take sides, we violate memory
This article is for subscribers only. You have 90% left to discover.
To cultivate your freedom is to cultivate your curiosity.
Subscription without obligation
Already subscribed? Log in