Ukraine is "fully prepared" for military conflict with Russia, assures President Zelensky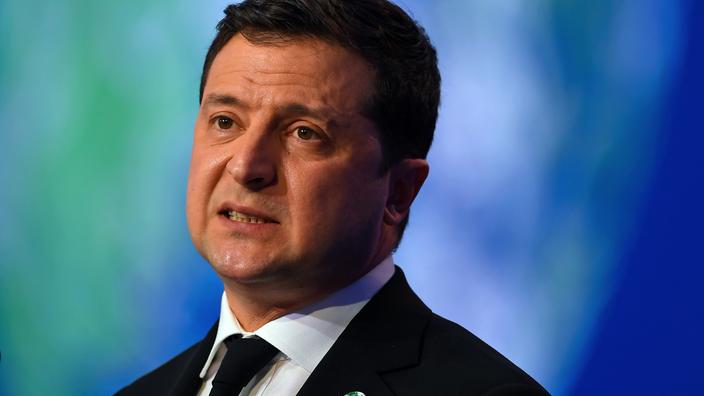 Ukrainian President Volodymyr Zelensky assured Friday November 26 that his country was "fully prepared»To a possible military escalation with Moscow, accused of having deployed new troops near the Ukrainian borders.
Read alsoUkraine at gunpoint as Russia massages on border
«Today there is intimidation saying that a war will take place tomorrow», Declared Volodymyr Zelensky at a press conference. "We are fully prepared for any escalation», He continued.
In recent weeks, the United States, NATO and the European Union have continued to express their concern about Russian troop movements around Ukraine, fearing a possible invasion, Moscow denying any plan in this direction. . "We have to rely on ourselves, on our army, it is powerful», Declared Volodymyr Zelensky at a press conference, denouncing«intimidationsArguing that a war was near. Ukrainian military intelligence chief Kyrylo Boudanov said on Sunday that Russia had massed nearly 92,000 troops on Ukraine's borders, anticipating an offensive in late January or early February.
Ukrainian army reinforced by American aid
This offensive could involve air and artillery strikes, followed by airborne and amphibious assaults, in particular against Mariupol as well as a smaller incursion to the north via neighboring Belarus, Kyrylo Boudanov argued with the American media. Military Times.
Eastern Ukraine has been plagued since 2014 by a war between Kiev and pro-Russian separatists, which erupted shortly after Moscow's annexation of Crimea and has since claimed more than 13,000 lives. Despite its denials, Russia is considered the godfather of the pro-Russian separatists and is accused of providing them with men and weapons.
While the Ukrainian army was overwhelmed in 2014, it now seems more confident, with the experience of combat accumulated and better equipped, in particular thanks to the help of Western allies. Ukraine has received, among other things, ammunition, ships, American Javelin anti-tank missile devices and medical supplies from the United States.
Read alsoUkraine: America's warning to Russia
The Kremlin, which denies any offensive plan, accuses Kiev, the West and NATO of aggravating tensions by carrying out maneuvers near the Russian borders.