Washington accuses Moscow of having "prepositioned" agents in Ukraine to create "a pretext for an invasion"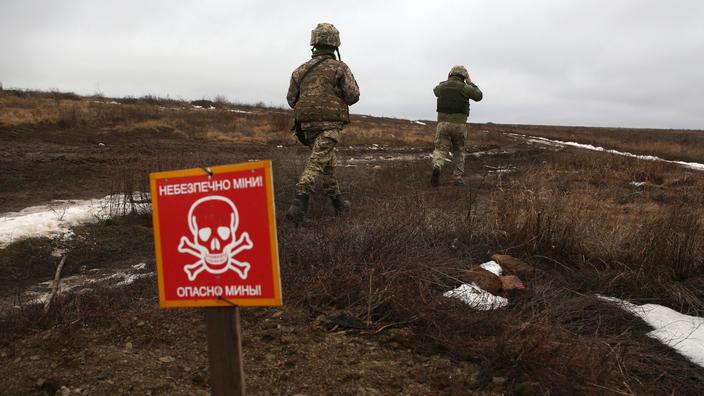 The US government has been accusing Moscow for several weeks of having deployed nearly 100,000 soldiers on the Ukrainian border for an offensive. The Kremlin rejects these accusations.
The United States accused Russia on Friday January 14 of havingprepositionedagents in Ukraine to conduct an operation that could serve as apretext for an invasionby Moscow forces. "Russia is laying the groundwork for the possibility of fabricating a pretext for an invasion, including through acts of sabotage and information operations, by accusing Ukraine of planning an imminent attack on Russian forces in eastern ukraine"Said White House spokeswoman Jen Psaki, detailing to the press the information Washington says it has.
Read alsoUkraine: Moscow points out differences with NATO
«The Russian military plans to begin these activities several weeks before a military invasion, which could begin between mid-January and mid-February", she warned, believing that such an attack could be accompanied by "widespread human rights violations and war crimesin case of failure of diplomacy. Pentagon spokesman John Kirby clarified that this information was "very believable».
« The Russian army plans (…) a military invasion, which could start between mid-January and mid-February »

A senior American official, this Friday.
But the Kremlin immediately rejected statements "free" and "supported by no evidence". The detailed accusations come after a series of high-level meetings between Westerners and Russians this week failed to defuse the risk of a new conflict in Ukraine. The US government has been warning for several weeks against the possibility that Moscow, which it accuses of having deployed nearly 100,000 soldiers on the Ukrainian border for a potential offensive, would previously create a "pretextto take action.
«False flag operations»
President Joe Biden's national security adviser, Jake Sullivan, said so again Thursday to the press, promising details of the findings of US intelligence – while specifying that the latter believed that the Kremlin had not yet taken a final decision on a possible attack. "We saw this strategy in action in 2014when Russia annexed Crimea from Ukraine,they are preparing this strategy again"warned Jake Sullivan.
Read alsoAndriy Yermak: «Ukraine has the right to know who opposes its entry into NATO»
According to Jen Psaki, who provided the most detailed clarifications to date on Friday, Washington "has information that Russia has already pre-positioned a group of operatives to carry out false flag operations in eastern Ukraine». «These agents are trained in urban guerrilla warfare and the use of explosives to carry out acts of sabotage against Russian allied forces.by posing as Ukrainians, she added.
Forces «hybrids»
The Pentagon spokesman explained that these agents could come "intelligence services, security services and even the army» Russians. Their strengths are oftenhybrids" so that "the borders are not necessarily very clear, to whom they answer specifically during these more clandestine operations", Argued John Kirby.
«Our information also indicates that Russian opinion leaders have already started to create Ukrainian provocations in public media and social networks to justify Russian intervention and sow division in Ukraine.", continued Jen Psaki. As an example, she referred to an increase in language elements on an alleged "deterioration of the human rights situation in Ukraine» and on a «increased militancy of Ukrainian leaders».
Read alsoVladimir Putin seeks to restore Russian order in his sphere of influence
«These elements of language also attribute to the West the responsibility for the escalation of tensions" and "promote Russian patriotism to encourage national support for military action", did she say. According to US intelligence, posts in Russian about these items on social media increased to about 3,500 posts per day in December, or "an increase of 200% compared to the daily average of November". Jen Psaki also asserted that the United States was "concerned about cyberattackof magnitude which targeted Ukraine on Friday. "We have not determined who is responsible at this stage.", she added, however.
SEE ALSO – Ukraine: how far can Putin go?