"What figure are LR activists looking to represent them?"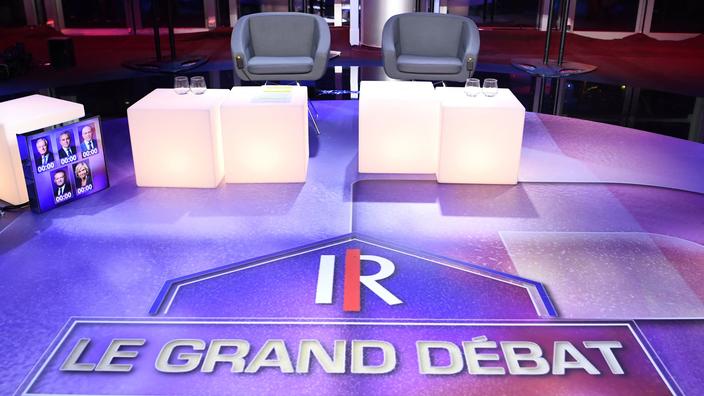 FIGAROVOX / TRIBUNE – All the LR candidates generally agreeing on the political direction to give to the country, the debate of November 8 on LCI revealed more differences in form than in substance, believes journalist Christine Clerc.
Christine Clerc is a former large pen of Figaro, winner of the Albert-Londres Prize and author of 4 books on de Gaulle.
---
How do you differentiate yourself when you think almost the same thing? And how, without annoying viewers now accustomed to more heated debates at Hanouna or on CNews, remain courteous without annoying your audience?
For their first evening of presidential debate on LCI, Ruth El Krief and David Pujadas had made the bet serious. Their guests, the five candidates for the LR candidacy, had taken the oath of calm, even of fraternity.
But where does Valérie Pécresse seem to have already integrated her erasure? Of a little sentence that escapes him? With that slightly sad look that never leaves her, she who dreamed of being both the Merkel and the French Thatcher?

Christine Clerc
In the middle of the four men in blue, their ties ranging from royal blue to almost black navy, the only woman on the track, Valérie Pécresse, wears a bright red jacket of a revolutionary fighter. She sets out her measures with a decided tone, her experience as president of the largest region, Île-de-France, gives her a strong credibility, and she does not hesitate to challenge her competitors on the financing of their measures. . But where does it come from that it seems to have already integrated its erasure? Of a little sentence that escapes him? With that slightly sad look that never leaves her, she who dreamed of being both the Merkel and the French Thatcher? As if, alas, the hour for women in power had not yet come in France. Unless they succeed in embodying, as Simone Veil formerly, a mother figure …
In front of it, it is the two candidates less well placed by the polls which create the surprise. Éric Ciotti, not because he dares to pronounce the term of "great replacement" launched recently by the accursed writer Renaud Camus and taken up by Eric Zemmour (with whom the elected representative of the Alpes-Maritimes does not hide, moreover, his proximity) but because he relies on his long and rich experience as an elected official in a border region and sometimes knows how to express himself with a smile, sometimes to convey emotion by talking about the police officer attacked with a stabbing weapon which he has just visited.
Read alsoMaxime Tandonnet: "Has the debate of ideas once again become a priority at LR?"
Philippe Juvin, professor of medicine, arouses interest because he does not only plead, with conviction, for a better organization of care and a reform of the hospital, which employs up to a third of administrative staff. when we are so short of caregivers. But because, mayor of La Garenne Colombes, former MEP, he recalls that in 2008, he got involved in Afghanistan to defend our values ​​there. How does he, this almost newcomer to the big leagues, who we thought would not get the number of votes sufficient, to know the issues so well by going in all fields?
Xavier Bertrand's bet is that LR voters will choose the most pugnacious fighter.

Christine Clerc
We see that Michel Barnier listens to him with sympathy. With his tall stature and white hair, the eldest candidate, 70, can invoke both his regional experience when he was organizing the Olympics in Savoy and his European experience as a Brexit negotiator. This gives it a calm, sometimes almost hesitant authority, but it is seen as a sign of moderation as it goes even further than its competitors in calling for a moratorium on immigration. And when he takes out of his pocket a small round pebble from Haiti, we understand that it is resistance. Hurricane resistance. Resistance to decline, especially in education and training, of France. Resistance to all foreign heads of state, whether American, Russian or Algerian, who allow themselves to humiliate France.
It is on this that Xavier Bertrand, both feet firmly planted on the ground, as if he was always ready to pounce, asserts himself with the greatest force. Claiming his popular origins and his deep knowledge, as president of the Hauts de France region, of all the human problems linked to deindustrialization, he poses himself by fighting and harshly attacking, and on several occasions, Emmanuel Macron who no 'has "done nothing" and has not even been able to gain respect from the Algerians. His bet is that LR voters will choose the most pugnacious fighter. Barnier's is that they aspire to a better shared governance. With an allure of Gaullism.