where can we travel? Our map of countries open to French tourists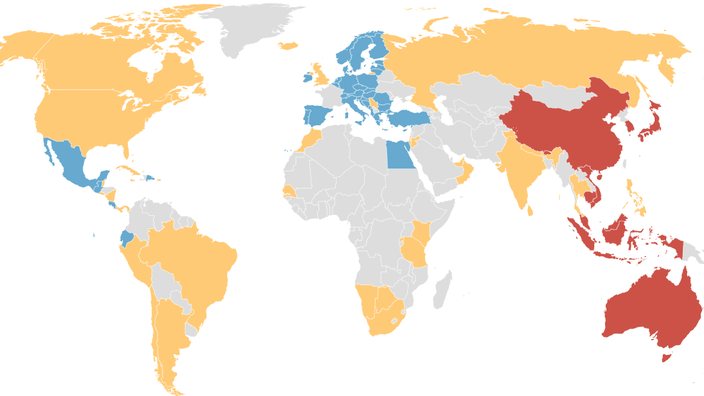 INFOGRAPHICS – Morocco is suspending its flights with France while in Europe restrictions are increasing. The fifth epidemic wave is halting the resumption of travel, while several tourist destinations such as the United States, Canada or Thailand have reopened in recent weeks.
Traveling despite Covid-19, instructions for use. In recent weeks, the opening of several long-haul destinations popular with French tourists, such as the United States, Canada or Thailand, gave hope for a gradual and supervised reopening of borders, thanks to the increase in vaccination coverage. The fifth epidemic wave sweeping through Europe is once again clouding the outlook.
The drafting of Figaro lists in an interactive map the travel conditions that apply to vaccinated to Europe and the most touristic countries of the world (89% of the eligible population received two doses of vaccine according to Covidtracker). Checks at airports, PCR or antigen tests, quarantine or isolation … This information is verified with several official sources (local authorities, embassies, France Diplomatie website) and updated regularly.
Latest Updates
Morocco : suspension from November 26 of flights to and from France.
New Zealand : the country will reopen its borders to foreign travelers vaccinated on April 30, 2022.
Slovakia: partial confinement since November 24 for a period of two weeks.
Austria : the country is confined until December 13 inclusive.
Netherlands : return of curfew. Essential bars, restaurants and shops close at 8 p.m. and non-essential shops at 6 p.m.
Cambodia: reopening of borders without quarantine for vaccinated tourists.
Read alsoCovid-19: these destinations still closed to French tourists (even vaccinated)
Travel conditions by country for vaccinated French tourists, our map
Last updated: November 25, 2021.
Travel conditions for the unvaccinated
It is more difficult and expensive