Which eleven against Hungary? Deschamps blurs the tracks at the Puskas Arena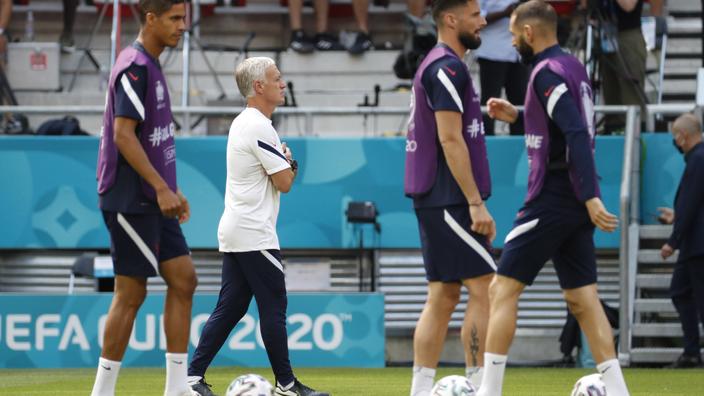 The coach of the Blues should renew the same eleven as against Germany against Hungary on Saturday in Budapest.
Special envoys in Budapest
On the eve of his 2e match in the Euro, Saturday (3:00 p.m.) in Budapest against Hungary, the France team carried out a final training session at the Puskas Arena this Friday afternoon. Under a beautiful sun and an oppressive heat (31 degrees in the shade), conditions that the Blues will find again on Saturday, Didier Deschamps scrambled the tracks during the oppositions at the end of the session, by mixing usual holders and substitutes, without an eleven probable can emerge.
On one side, with chasuble, were: Mandanda – Pavard, Koundé, Kimpembe, Lucas – Pogba, Kanté, Lemar – Dembele, Benzema, Thuram and on the other, without chasuble: Lloris – Dubois, Varane, Lenglet, Digne – Sissoko, Tolisso, Rabiot – Griezmann, Giroud, Mbappé. Before Koundé gives way to Zouma and Thuram to Ben Yedder during the freshness break.
«There may be the same team or a few changes, had warned the coach at a press conference in the early afternoon. We have this possibility of being qualified after this second match. This is the first objective. I will do everything to ensure that the result is positive. I'm not preparing for this match thinking about the third (against Portugal). " What to suggest that the team which will start against the Hungarians will be close to the eleven aligned against Germany (Lloris – Pavard, Varane, Kimpembe, Hernandez – Kanté, Pogba, Rabiot – Griezmann, Mbappé – Benzema).
For his part, the Italian coach of Hungary Marco Rossi believes that the Blues are spoiled for choice: "There are 20 players as good as each other, Deschamps is spoiled for choice. Maybe some players will be off tomorrow (Saturday). " Nothing is less sure.
SEE ALSO – "We never sang the Marseillaise, yet we were white": Michel Platini defends Karim Benzema