Will artificial intelligence advance the work of journalists or will it replace them?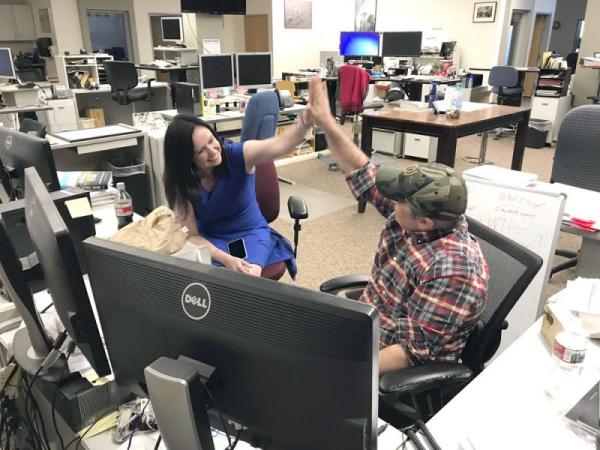 Can artificial intelligence save journalism in the future? Or will he take on some editing practice and cut more jobs?
In his new book, Francesco Marconi, a professor of journalism at Columbia University in New York, takes an optimistic view. "The future of journalism could lie in artificial intelligence," he says.
For his part, Patrick White, professor of journalism at the University of Quebec, suggests that the world of traditional journalism that does not keep pace with new technologies should use what artificial intelligence can offer and come up with a new business model in newsrooms, and says, "Artificial intelligence should be at the heart of the journalism business model in the future," citing several examples of how artificial intelligence is being used in newsrooms today; The Canadian News Agency, CBC, has developed a system for accelerating translations based on artificial intelligence. For its part, the French news agency (AFP) is using artificial intelligence to detect fake photos.
White considers that "artificial intelligence does not exist to replace journalists or eliminate some jobs," noting that artificial intelligence is expected to take over between 8 and 12 percent of the current tasks of journalists. Editors and reporters will be redirected toward feature journalism, dialogue, analysis, data-driven journalism, and investigative journalism that machines have hitherto been unable to produce.
At the Associated Press, for example, artificial intelligence robots perform basic tasks such as writing – from two to six paragraphs – about sports results and quarterly business earnings reports. Artificial intelligence robots are helping The Washington Post edit election results and Olympic results. Bloomberg News has bots that scan large databases while reporters decide which ones to follow, fact-checking, contextualizing information and conducting conversations. "Artificial intelligence can hardly replace all of this. In this sense, people should remain at the center of the entire journalistic process," says White.
He agrees with Marconi that the media must develop new business models and take advantage of what AI has to offer.
New models include paid subscriptions, subscription schedules, newsletters, important events, podcasts, and videos. "In this sense, AI is part of a new business model based on media smashing," White adds.
Less optimistic is the news that Microsoft recently cut off nearly 50 journalists working for MSN and plans to use artificial intelligence to replace them, and according to a recent report in the Seattle Times, journalists were recently told that their services would no longer be available. Required after the 30th of June.
A Microsoft spokesperson was quoted as saying, "Like all companies, we evaluate our business on a regular basis. This can lead to increased investment in one place and from time to time, and redeployment in other places."
It appears that full-time news producers will be retained by Microsoft to perform jobs similar to those released. Some contractors have also stated – without revealing their identity – that AI uses algorithms to identify trending news from dozens of publishing partners, and helps rewrite headlines and add better images or slideshows to accompany the content.
"It's frustrating to think that machines can replace humans, but here you are," one dismissed journalist was quoted as saying.
And virtual news anchors with artificial intelligence are spreading day by day in China; Xinhua News Agency recently released its latest 3D AI news anchor, expanding the growing list of virtual presenters that the agency is developing.
At the World Internet Conference 2018, some companies showcased AI-powered newscasters, identical in appearance, but one spoke English and the other spoke Mandarin Chinese.
In order to develop the first prototypes, hours of video footage were studied to replicate the movements, expressions, and other features of real-life stabilizers. "AI broadcasters have become official members of Xinhua's reporting team," Xinhua said in a 2018 report. Virtual docks have been used in some channels including WeChat, Weibo and Zhanhuia apps in both English and Chinese.