"You must not believe that you are qualified before you are qualified"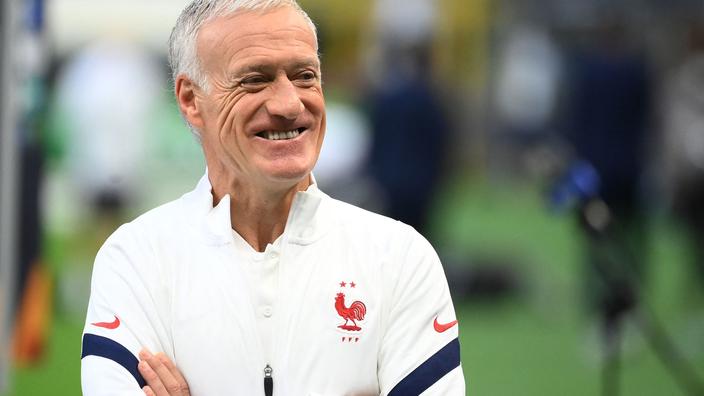 The coach spoke at Clairefontaine five days before a decisive match against Kazakhstan in the 2022 World Cup qualifiers.
In Clairefontaine
The atmosphere at the Blues before the last meeting of 2021
"I'm not going to complain about having a full week to prepare Kazakhstan. It allows to have a total recovery on all the players and in a 2e time of workouts. Is it better at all levels? Will I run on this rally anymore, I don't know today, because we want to achieve our goal, to be qualified for the World Cup (a victory on Saturday evening and the France team will validate its ticket for Qatar 2022). All my energy is on that and we must not think that we are already qualified because it is only Kazakhstan. You shouldn't play with it. We want to arrive and determine. Winning a title (The League of Nations in October) is the best vitamin in relation to the competitive spirit of the players. It confirms the value of this France team, especially given the opponents we had (Belgium, Spain). It doesn't give us any guarantees either, except that we are capable of doing very good things. "
SEE ALSO – France team: Didier Deschamps recalls Alphonse Areola in a list without surprises
The biggest lesson he takes from 2021
"(He breathes for a long time) I have no lessons to learn, rather analyzes. I'm not going to take stock there are still two matches and we must qualify for the World Cup … I will answer it anyway … 2021 was a year with 3 goals, and in particular one that we did not not reached at the Euro. The Nations League title is one of the titles won and there is still this qualification for the World Cup. Like every year, there is movement (in the France group), regeneration, young players who have come, new ones, changes that I have had to make in terms of organization with different profiles. A gain is important compared to the field, on condition of removing the 10 minutes of distraction that we had this summer (against Switzerland). There were a lot of good things (in 2021), including winning the Nations League, against these two quality opponents. The capacity and strength of this team is always to have a group of competitors who always want to go and find what is in front of us. The France team was and still is one of the best European and world nations. "
SEE ALSO – Deschamps judges Benzema "essential»To the Blues after the coronation in the League of Nations on October 10
His opinion on defensive packages (Varane, Kimpembe)
"We will organize without them (laughs). Obviously I prefer to have all my players available, there it is in defense that there are absent. You have to master, be the most dangerous for the opponent and that will lead me to choose a starting system with animation where you have to be efficient in the face of a dense and low block. We know what we are going to be confronted with, we need diversity, initiative, while being solid defensively so as not to leave them opportunities. "
Griezmann's return to form
"It's better when a player arrives with full confidence, with good performances with his club. Antoine also came to Clairefontaine after difficult situations in the club, which did not prevent him from performing well with us. Not all players can perform well ten months out of the year, it's impossible and inevitably there are more delicate moments. What I see is that the players of the France team always see their selection as happiness, but also sometimes as a breath of fresh air depending on the periods. "
If the presence of Kanté is the guarantee of a better balance of the Blues
"The balance depends on the opponent. If you refer to the last two matches, we haven't had it all the time. Can a single player bring the balance? I do not think so. N'Golo will be important, he can play lower, in another role, it is better for us that he is there. The balance will not rest on a single player but adding a player like him can go in that direction. "
If Kazakhstan at the Parc des Princes reminded him of Bulgaria in 1993
"What is behind is behind, nothing can be changed. The important thing is to feed off what may happen but some were not even born in 1993. We are at the Parc, you know why (The Stade de France was not available), which is a very beautiful enclosure, it is very good that we are playing this decisive match there. It's been 28 years (the Blues had missed the 1994 World Cup after a historic defeat against the Bulgarians) but we must remain vigilant not to believe ourselves qualified before being so. It happened, personally I paid for it, it must not be repeated. "
Did Giroud shoot himself in the foot
"Each player is free to express himself, to give his feelings, his opinion in relation to his own situation. The most important for me are the discussions I have live with the players and Olivier knows. "
Pogba's struggles with Manchester United
"Some players arrive with full confidence and others with a different context. This is the case with Paul who remains an executive and a leader in EDF. It is not the same situation at Man U. He will arrive happy here, but necessarily with a deficit from what is happening at the club. "
His opinion on the Lensois Clauss, performing in Ligue 1
"Who's making the buzz? (to reporter) Answer the question then (laughs). I look at a lot of things, including this player from Lens. Buzz or not, that's not what makes me select it. That he is 29 years old, that he does not play the European Cup, it is not a criterion in itself, it is a question of competition compared to the position (Pavard, Dubois, Mukiele). I know that you are waiting for novelty, I am not here to make novelty (excessively). To draw a parallel from the age of the player, Jordan Veretout (28) arrived late. Like what that does not prevent to call players (older). The buzz is closed. "
Benzema in the Ballon d'Or race
"This is an important, prestigious individual award. He is one of the applicants, can win it, it's all the harm I wish him after what he achieved with his club and the France team ".