Zelensky praises the successes of the Ukrainian army and Western weapons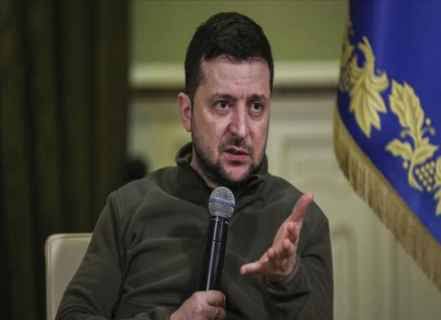 Kyiv (dpa)

Published in:
Saturday 6 August 2022 – 11:31 PM
| Last updated:
Saturday 6 August 2022 – 11:31 PM

Ukrainian President Volodymyr Zelensky praised his armed forces for launching successful counterattacks against the Russian side, and stressed the role of Western weapons in this.
Zelensky said in his video address on Saturday evening that the Ukrainian army had achieved "strong results" in the past week in destroying Russian military equipment.
"Any attack on the enemy's ammunition depots, on its command posts and on stocks of Russian technological equipment, saves all our lives, the lives of Ukrainian soldiers and civilians," Zelensky added.
Zelensky thanked Western partners for past arms shipments to his country.
Zelensky referred in particular to the support of the United States, which announced a few days ago that more weapons would be delivered to Ukraine in the amount of $550 million.
This should include Hemar munitions for multiple rocket launchers and 75,000 artillery shells, Zelensky stated.
At the same time, Zelensky requested more military assistance.
Ukraine, which has been defending itself against the Russian invasion for nearly six months, intends to use these foreign weapons to regain lost territory.
Recently, the Ukrainian army launched several counterattacks in the south of the country.
!function(f,b,e,v,n,t,s)
{if(f.fbq)return;n=f.fbq=function(){n.callMethod?
n.callMethod.apply(n,arguments):n.queue.push(arguments)};
if(!f._fbq)f._fbq=n;n.push=n;n.loaded=!0;n.version='2.0′;
n.tail=[];t=b.createElement(e);t.async=!0;
t.src=v;s=b.getElementsByTagName(e)[0];
s.parentNode.insertBefore(t,s)}(window,document,'script',
'https://connect.facebook.net/en_US/fbevents.js');
fbq('init', '2392364917476331');
fbq('track', 'PageView');
(function(d, s, id) {
var js, fjs = d.getElementsByTagName(s)[0];
if (d.getElementById(id)) return;
js = d.createElement(s); js.id = id;
js.src = "//connect.facebook.net/ar_AR/sdk.js#xfbml=1&version=v2.6&appId=300970513306659";
fjs.parentNode.insertBefore(js, fjs);
}(document, 'script', 'facebook-jssdk'));
The news from the source