ZFEs, a new nightmare for motorists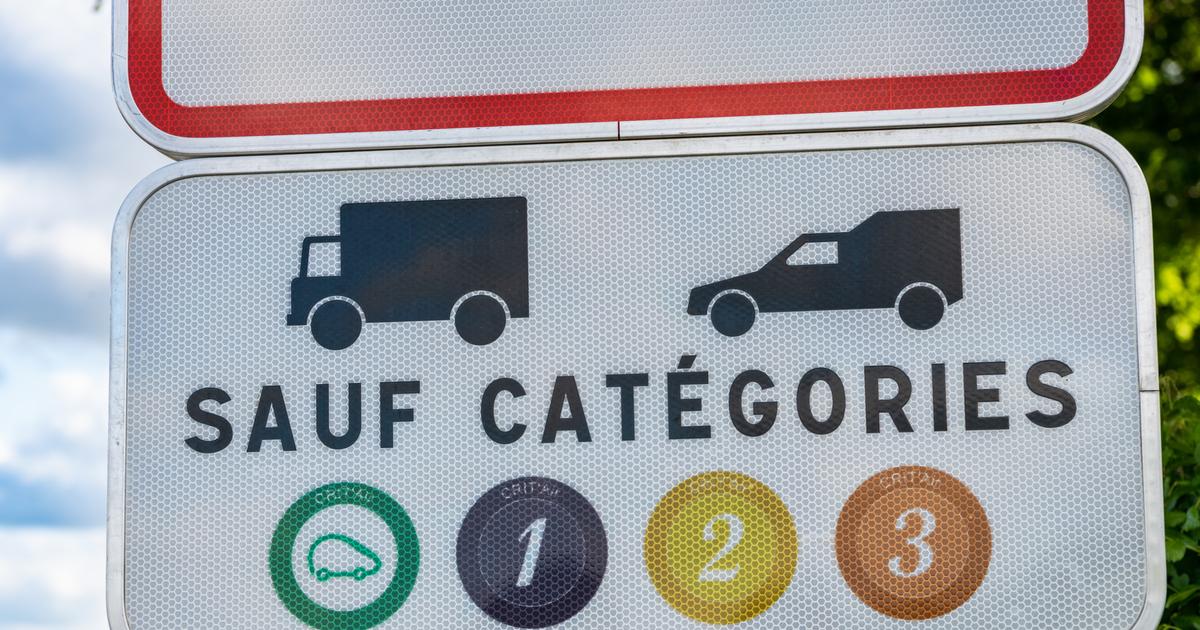 TESTIMONIALS – Low emission zones (ZFE) will be compulsory in the largest French cities at the end of 2024, something to raise concern among motorists.
A "social time bomb". This is how 40 million motorists qualify the low mobility emission zones (ZFE-m or ZFE), these urban spaces whose access is reserved for the least polluting vehicles. This system, which already concerns eleven metropolises in France, will be imposed in all the agglomerations of the country of more than 150,000 inhabitants by the end of 2024.
The ZFEs work thanks to Crit'Air stickers, which officially appeared in June 2016. The driver must affix them to their windshield, the number 5 corresponding to the most polluting vehicles; the number 1 for the least polluting.
But this restrictive measure is already arousing a lot of criticism among motorists, worried about having to leave their vehicle in the garage. Le Figaro collected their testimonies.
SEE ALSO – Low emission zones: "Why would the population who does not live in the city change cars?" Asks François Delétraz
Pedagogy preferred to fines
Laurence lives in Déville-lès-Rouen (Seine-Maritime), a town located in the metropolis of Rouen. There, the ZFE, in place since September 1, 2022, concerns Crit'Air 4, 5, or unclassified vehicles. It should be noted that it is the metropolises that have the management of the ZFEs. "My son comes two to three times a week to visit me. His car and motorcycle do not fit the traffic criteria. How will he do? wonders the one who suffers from disability and who no longer works. He could take the bike but it really won't be practical in the winter». In Rouen, the choice was made not to distribute a fine and to play pedagogy until March 1, 2023.
Read alsoLow emission zone: peripheral France collateral victim
In reality, in general and according to the various associations of motorists interviewed by Le Figaro, the existing financial sanctions are today very little, or even not applied by the local authorities. The government nevertheless plans to automate these fines – amounting to 68 euros for light vehicles and 135 euros for heavy vehicles, excluding the increase – by the second half of 2024.
On the other hand, controls are already in place during pollution peaks, where Crit'Air 3 vehicles may also be prohibited. In the Paris conurbation, the bans concern vehicles without a sticker, Crit'Air 4 or 5. The extension of the ZFE to Crit'Air 3 has been postponed to 2023. "When I don't have permission to ride, I do it anyway, I have no choice», confesses Malik, a 23-year-old engineer living in Bondy (Seine-Saint-Denis) who owns a Crit'Air 3 vehicle.
Changing car, too expensive?
«J'utilise Waze [une application d'assistance à la navigation, NDLR] to avoid police checks during pollution peaks. It's quite a stressful situation.", he confides again. And to point the finger at the financial cost required of the persons concerned: "We are asked to change cars, but at what cost? If I change, it would be minimum for a Crit'Air 1 car, because I'm afraid that the next bans will target Crit'Air 2. I would need a minimum of 20,000 euros. It's too expensive, even deducting the aid I'm entitled to».
Read alsoElectric car: in use, the approval of the battery seduces drivers
It is also the financial question that worries Aymeric, a 50-year-old Bordeaux resident, a city where the ZFE is not yet in place. "My two sons, students, each have a Crit'Air 2 vehicle bought for 2000 euros. I can't buy them a new one. How will the younger ones do?», he laments. "We are going to force motorists to throw away cars that work to buy new ones, that's the root of the problem. The system seems deeply unfair to me», strikes the one who also fears seeing his Crit'Air 2 car banned in the short term.
Public transport not always suitable
For him, "public transport cannot be an answer». «It takes me 25 minutes to get to work from home and 1h20 by public transport. There are certain lines at certain times where I don't even want to take them because of the world», he throws.
A problem that arises more for large families. Another father, who wishes to remain anonymous, lives in Lattes, in the agglomeration of Montpellier (Hérault), with his partner and five children. As of January 1, 2025, Crit'Air 3, 4 and 5 vehicles will be prohibited there. "Transport does not sufficiently serve the places where I have to go, especially when I have to drop off the little ones», he advances. He is particularly concerned about the future banning of his minibus labeled Crit'Air 3. How am I going to shop? It's the same when I have to take my five children with me. I won't be able to go anywhere at the risk of being fined every time. Can you imagine this ordeal?»
SEE ALSO – Low emission zones: an anti-social measure?
An exception for collector cars
The case of Anthony, 37, is special. This car collector lives not far from Nancy. Normally too old to circulate in the ZFE, his two horses from 1983 has a collector's registration document. This allows it to circulate in certain urban areas, depending on the agreements established between the French Federation of Vintage Vehicles (FFVE) and local authorities. "Except in the event of a pollution peak where these old cars will also not be able to circulate», nevertheless specifies the FFVE.
Read alsoElectric cars: a very largely subsidized ecological transition
"The ZFE is a real threat to me. I fear a massive deposit of 'car collection' files which does not deserve it [afin d'échapper à la réglementation, NDLR.], protests Anthony. For him, an influx of files to the FFVE, the only organization authorized to distribute the necessary authorizations to obtain a gray card for a classic car, would slow down the process and "would discredit the FFVE with the public authorities". «Many low-income people could upgrade their vehicles to classic cars, as they cannot afford a modern car», he dreads.
According to the association 40 million motorists, joined by Le Figaro«50% of motorists will be affected by EPZ bans". Whether they live inside the agglomerations or whether they go there only occasionally.
SEE ALSO – "It's sad to see the number of constraints that weigh on the use of the automobile", deplores Carlos Tavares